A STATUS REPORT ON NAVY SHIPBUILDING AND REPAIR
By James R. McCaul IMA Associates, Inc., Washington, D.C.
SENATE APPROVES $1 BILLION FOR SEALIFT SHIP PROCUREMENT The U.S. Navy continues to be the major source of business for shipyards and marine equipment manufacturers in the United States.
This article is an excerpt from recent IMA quarterly business reports on Navy shipbuilding and repair.
Navy Shipbuilding The Navy plans to build 90 ships and perform three major modifications/ conversions over the next five years (FY 1990-94). The breakdown of this program and a comparison to FY 1989 is provided in Exhibit 2.
As of early November, Congress had not yet passed either an authorization or appropriation bill for defense spending. Exhibit 1 shows the status of funding for the proposed FY 1990 shipbuilding program. This information is as of 1 November.
The Senate recently approved $1 billion for procurement of four fast sealift cargo ships and two sealift tankers. This past summer, a similar measure was included in the approved House Defense Appropriations Bill.
The sealift provision, which was included in an amendment to the FY 1990 Senate Defense Appropriations Bill, focuses on high-speed sealift ships which, besides enabling the U.S. to meet its global defense commitments more rapidly, would also improve the competitiveness of U.S. shipyards. The amendment also included $488 million for the construction of two USCG icebreakers and $1.4 billion for the refit of the Enterprise (CVN-65). The appropriations bill from the House did not include the icebreakers.
Long Range Force Level Predictions Exhibit 3 shows projected 30-year force levels for various components of the Navy surface fleet. These projections are taken from the recently released Surface Warfare Plan- 1989. Assuming ship procurement funds are available, these force level targets are the basis for structuring the level and composition of ship construction programs over the next 10 to 20 years. However, given the recent changes in international relations and continued budget problems in Washington, D.C., it is unlikely that future Navy ship construction will proceed at the rate desired by the Navy.
$2.3 Billion For Navy Ship Repair The Navy has scheduled about 260 ship repair job starts over the next two fiscal years which will be available to commercial shipyards.
This figure includes 20 overhauls, 116 selected availabilities, 113 phased maintenance availabilities, and 10 past shakedown availabilities.
Navy has estimated the budget to perform this work to be $2.3 billion.
IMA Associates provides assistance in developing market strategy and long term business plans. For more information contact: Jim McCaul at (202) 333-8501.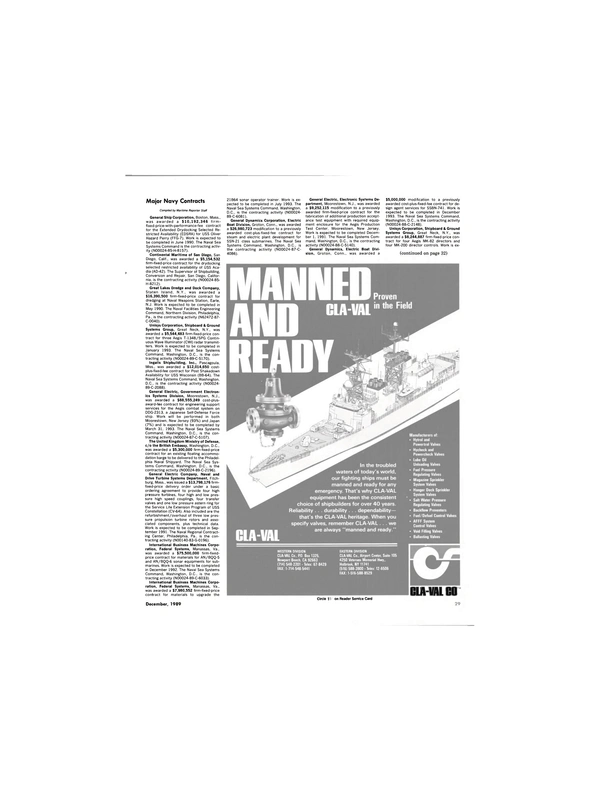 Read A STATUS REPORT ON NAVY SHIPBUILDING AND REPAIR in Pdf, Flash or Html5 edition of December 1989 Maritime Reporter
Other stories from December 1989 issue
Content