Anything but Standard: Damen Newbuild and Repair Group Targets Global Growth
By Eric Haun
From a single newbuild and repair yard near Rotterdam in 1927, the family-owned Damen Shipbuilding group has expanded to 38 shipyards and related companies involved in new construction as well as repair and maintenance activities. Now with more than 8,000 employees and a presence in 34 countries, the Netherlands-based Damen group has become one of the world's most successful shipbuilding businesses, thanks largely to its production methods and ever-expanding design portfolio.

When Kommer Damen began running the Damen company in 1969, he made changes to the company's operations instantaneously. One of his first initiatives involved standardizing the construction of vessels based on modular building principles, a bedrock business principle that has driven the company's growth for the last 40 years. Continuing its standardized mode of building today, Damen builds on spec and keeps stock of its most popular vessels, enabling buyers to obtain vessels in a matter of weeks, rather than months or years, with a competitive price tag, too.

Damen's newbuilding activities presently includes a range of vessels in each of its niche markets, of which it delivers between 120-150 annually (more than 5,000 since 1969), including tugs, workboats, offshore support vessels, dredgers, navy and patrol craft, cargo ships, fast ferries, fishing vessels, barges and luxury yachts. Of Damen's newbuilds, 22% are harbor services and shipping, 20% offshore and support, 20% security and patrol, 20% naval, 5% public transport, 8% yachts and 5% dredging.

The group's annual turnover in 2012 was $2.3 billion, and the company projects between $2.4-2.6 billion for 2013. Newbuild commands the lion's share (70%), with repair smaller (14%) but growing fast. By region, Damen deliveries include 24% for the Netherlands, 33% for the rest of Europe, 11% the Americas, 13% Asia, 12% Africa and 7% Middle East.

Design Spotlight - The Axe Bow
A recent market changer is Damen's Axe Bow concept. Attempting to improve seakeeping abilities and comfort of high-speed vessels, Damen's Axe Bow has been in the works since the 1980s. Starting with the long-hulled "Enlarged Ship Concept," Damen initially produced the Stan Patrol 4207 and 4708 in the 1990s. It wasn't until the 2000s that the Axe Bow hull form was fully developed with the debut of "Sea Axe" patrol vessels and fast crew suppliers. Literally shaped like the head of an axe, the slender Axe Bow is designed to cut through seas at high speeds with reduced wave resistance. In addition to improving vessel operability, comfort and safety, Damen says the dramatic drag reduction cuts fuel usage by 20% and as a result also significantly reduces emissions.

Damen quickly incorporated the Sea Axe design into several of its market areas, producing builds from 19-67 meters in areas ranging from patrol vessels fast crew suppliers, even building a "Twin Axe" catamaran. More than 100 vessels with the Sea Axe design have been sold since 2005, mostly for use offshore, with nearly 60 under construction at Damen yards globally.

Looking ahead, Damen plans to scale up in the following areas: offshore, harbor terminal and tugs, naval and patrol, dredging, defense and security, public transportation, government and naval, yachts and offshore energy.

Offshore
Damen admits the offshore newbuild sector is not a major contributor to its bottom line – for now. Damen's offshore division has an annual turnover between $200-270 million, accounting for approximately 10% of its $2.3 billion total for the group in 2012. Damen's first offshore vessel was a one-off supplier built in 1987, but the company's offshore builds didn't pick up until after the start of the new millennium when the company's Brazilian partner Wilson Sons (see related story, page 54) inquired for the design of a platform supplier, which was built in 2007. This served as a turning point for the company, and Damen decided to increase its offshore building activity, keeping its basis in the Brazillian market. In 2010, Worldwide Supply placed an order for six new platform suppliers (two have already been delivered, while the remaining four are expected by the end of 2013, and an additional two are in production). Since 2007, Damen has received 50 orders in the offshore segment, including PSVs, cable layers, anchor handlers, seismic research vessels and oil spill response vessels.

Damen has capabilities for building offshore vessels in Holland, Vietnam, Romania, China and Brazil, with plans to expand, both in physical facilities and new design concepts.

"We are a big company, and we think the Offshore market is one of the niches where we can grow," said Jan Van Os, Damen's Offshore Director. "One of our goals is to become a key player in the offshore market." He added, Damen is presently looking into other innovative offshore options that fit into the design capabilities and capacities of its yards for both short and long term, such as construction vessels, platform repair and maintenance vessels, arctic platform suppliers and cable laying vessels.

Harbor and Terminal Tugs
Damen is a leader in the design and build of harbor and terminal vessels, particularly its range of standard harbor tugs with bollard pull of up to 100 metric tons. Stock Damen terminal service vessels and tugs are available for operation nearly immediately upon order, perfectly epitomizing the benefits of Damen's standardized building method and making the harbor and terminal sector Damen's busiest. More than 80 Damen ASD tugs (Damen's top harbor product) have been built since 2002. The Damen harbor portfolio includes a range of workboats for various tasks in ports and harbors. Work barges, skimmers, dregders, pilot boats, fire-fighting vessels, multi cats, survey vessels buoy tenders and security vessels are all offered by Damen, demonstrating the builder's wide design and build capabilities.

Luxury Craft
Yachts make up 8% of Damen's newbuild orders. It acquired Amels in the early 1990s and has expanded its yacht building capacities. In 2005, Damen introduced the Limited Editions concept, which comprises four models that allow customers to choose from stock builds and then choose paint, interior options and other features to create customized luxury vessels. Damen said its semicustom designs based on standardized building methods allow faster deliveries, top quality and higher resale values.

Naval and Patrol
Damen's navy roots are deeply seeded in the company's defense and security traditions. Damen has been the dedicated shipbuilder of the Royal Netherlands Navy for more than 50 years, having involvement in the design, engineering and construction of eight generations of combat and auxiliary vessels. Roughly 20% of Damen's builds fall into the naval and security segment including inland, coastal and offshore patrol vessels; air defense and command frigates; landing personnel and vehicle craft; coast guard emergency rescue and multipurpose ships.

Repair
Damen Shiprepair and Conversion is a successful venture in its own right, contributing roughly $475 million of the group's annual turnover. The business sector performs more than 1,500 repair jobs per year at its 16 repair yards throughout the world, approximately 50% of which comes from the offshore sector. The repair group has a focus on niche markets such as LNG, cruise and dredging for complex long-term projects, while many shorter-term general repair projects are completed as well to help keep the repair yards busy and profitable. Damen's shiprepair services range from collision repair and engine damages to fire/water damages and rudder/tailshaft repair.
(As published in the October 2013 edition of Maritime Reporter & Engineering News - www.marinelink.com)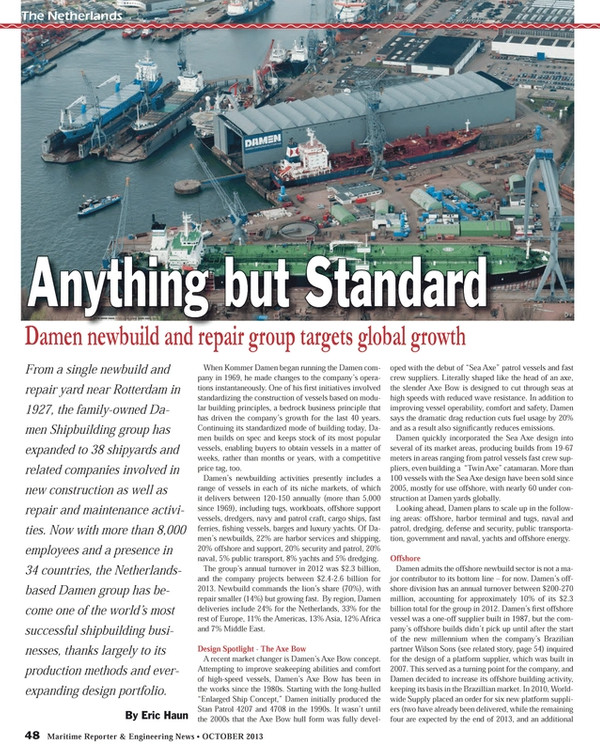 Read Anything but Standard: Damen Newbuild and Repair Group Targets Global Growth in Pdf, Flash or Html5 edition of October 2013 Maritime Reporter
Other stories from October 2013 issue
Content