Offshore Logistics: Wilson, Sons Group & Brasco Offshore Logistics
By Claudio Paschoa
As the Brazil's O&G market continues to grow, growth in tandem of the offshore logistics solutions component becomes equally important. Brasco Offshore Logistics is a Wilson, Sons Group company dedicated to offering efficient solutions to oil and gas players operating in Brazil. Maritime Reporter's Contributing Editor Claudio Paschoa interviewed Renata Pereira, Executive Director of Brasco, a wholly Brazilian company specialized in complex logistics services.

According to Pereira, the Wilson, Sons Group is 176 years old, having been founded in 1837 in the city of Salvador, in the northeast state of Bahia by Edward Pellew Wilson. "The Wilson, Sons Group today, is a diversified group focusing on container terminals, maritime towing, shipbuilding and offshore logistic. The group has two important container terminals, Tecon Rio Grande and Tecon Salvador. In Brazil it is the leader of the maritime towing market and builds PSVs in its own shipyards located in Guarujá, in the state of São Paulo," said Pereira.
"As part of Wilson, Sons, Brasco Offshore Logistics is an integrated port and logistics service provider to the oil & gas industry in Brazil, it specializes in setting up and operating support bases along the whole Brazilian coast," said Pereira. "We offer a complete suite of services, including materials management, purchasing, storage, transport and supply of fresh water, drilling and well completion fluids, heavy cargo handling, casing/pipe inspection, container rental, vessel fueling, waste management and administrative support. Our clients include some of the world's major oil and gas operators currently in Brazil."

Although Brasco's title is "Offshore Logistics," the company also offers onshore logistics solutions for its clients through its support bases in the at Conceição island the city of Niterói, in Guaxindiba in the city of São Gonçalo in Rio de Janeiro, in the city of São Luis in the northern state of Maranhão, Salvador in Bahia and Vitória in the state of Espírito Santo. Brasco also claims that is also capable of installing operation bases along the entire Brazilian coast.

"In our secure location in Niteroi, we concentrate our warehouses where equipment from different companies are stored and we also have silos where drilling and completion materials, such as drilling fluid and completion mud is stored and also other silos specifically for fresh water storage, in preparation for transport by our PSVs to their final destination aboard platforms. In the same location we also have a quay for loading and fueling the PSVs, and storage facilities for perishable items such as fresh food. From here we are able to analyze our client's needs and develop flexible, custom solutions for each of our clients," said Pereira. With around 60,000 tons of materials transported in the last year, Brasco is a leading force in the Brazilian offshore support segment. The strategic location of Brasco's logistics centers allows it to serve clients operating in the Campos, Santos and Espírito Santo Basin, and it also facilitates logistics for companies seeking to explore new frontiers in the equatorial margin and northeast coast of the Brazil.

Brasco's portfolio of logistics services includes:
• Port operation
• Loading and offloading of cargos
• Storage (open/closed), including chemical products and perishables
• Loading of water, fuel and any
other type of bulk product
• Material management
• Automated inventory control
• Equipment inspection
• Land transportation logistics
• Support for emergency response
• Procurement
• Supplying of containers

"Along with Brasco, there is the joint venture Wilson Sons Ultratug Offshore, where Wilson Sons has a 50% participation, which offers offshore support services to oil and gas exploration and production platforms by transporting equipment, drilling fluids, cement and food, and other materials necessary to platforms located on the Brazilian coast, through its fleet of PSVs built in the company's shipyard and flying the Brazilian flag," said Pereira.

The Wilson Sons shipyard, located in Guarujá, occupies an area of 20,000 sq. m. and has the capacity for simultaneous building and maintenance of small and medium vessels. Wilson Sons shipyard was the first shipyard in the shipbuilding industry in Brazil to receive the quality certificate ISO 9000 certified by Lloyd's Register Quality Assurance. Currently they are also certified according to ISO 9001:2000. Over the years, the shipyard has delivered vessels equipped with the best available technologies, including DP capabilities. The Guarujá shipyard adopts an assembly line system, which maximizes productivity.

"As we considered the growth of the business and given the strategic importance of shipyard for some of the activities of Wilson, Sons, an expansion project for our shipyard began in 2010. The project doubled the built area of the facility and added a new dry dock. With this expansion, the Guarujá shipyard will also be capable of building midsize vessels," said Pereira.

The Guarujá 2 shipyard was launched in May 2013 and has already secured contracts for the construction of three vessels for a Brazilian company called Geonavegação. Two of these vessels will be oil spill recovery vessels (OSRV) with a load capacity of 1.080 cu. m. and one 5,000 ton PSV. These vessels are slated for delivery in 2015 with a total contract value of $133 million. The company also has a project to create a new shipyard in the port of Rio Grande in the southern state of Rio Grande do Sul. This shipyard will focus on building vessels to support offshore platforms, such as PSVs, AHTSs, along with port and offshore tugs. The first work on the site will be to build a technical center for training of welders, fitters and painters, along the lines of what already exists at the existing shipyard.


Renata Pereira
Executive Director, Brasco (Wilson, Sons Group)
Renata Pereira has an extensive experience in the oil and gas industry, having worked for Shell for 10 years where she held management positions in the areas of Upstream and Downstream, and later in partnership with a consulting firm specializing in energy and logistics. She is currently Executive Director of Brasco, a company of Wilson Sons Group, where she served before as oil and gas Manager, responsible for new business development and integration between the areas of the group's activities related to the oil sector.

(As published in the October 2013 edition of Maritime Reporter & Engineering News - www.marinelink.com)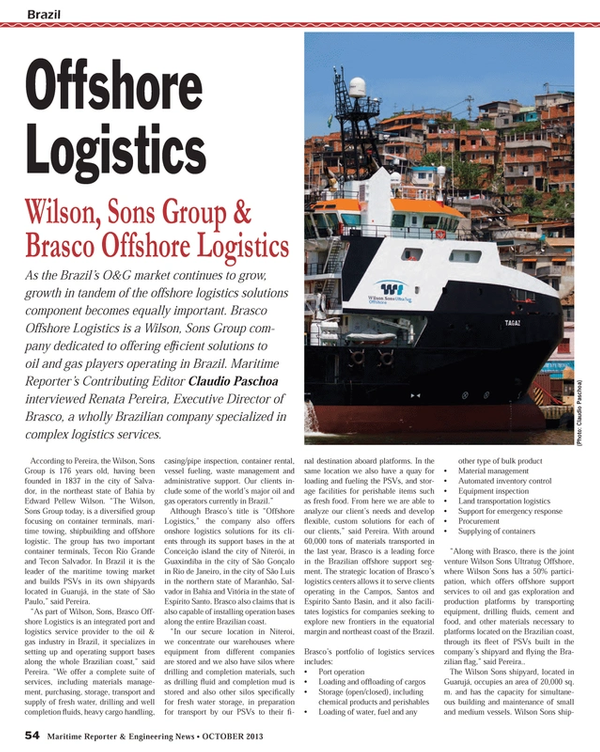 Read Offshore Logistics: Wilson, Sons Group & Brasco Offshore Logistics in Pdf, Flash or Html5 edition of October 2013 Maritime Reporter
Other stories from October 2013 issue
Content